What is Soft Shore Stabilization?
Soft shore stabilization is an engineered alternative to bulkheads using local materials such as large boulders, gravel, sand and root masses in designs that mimic natural processes.

Soft shore protection protects from erosion while also providing beneficial elements for plants and wildlife.
These projects can be large or small.
Example of homes with soft shore stabilization
BEFORE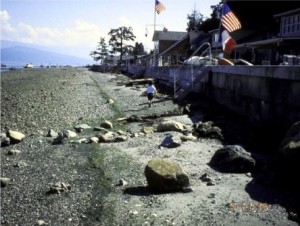 AFTER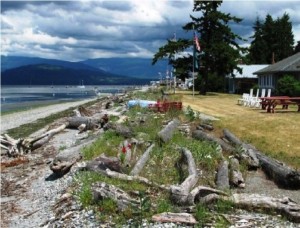 Before and after bulkhead removal and soft shore stabilization on Samish Island. Ten homes worked together to redo their waterfront. This soft shore stabilization improves beach access and is engineered to give the same protective effect as the bulkhead with a gentler slope.
photo credit: Hugh Shipman.